2023 Toyota Mirai
Innovation is power.
If you're searching for innovative technology paired with eco-friendly performance, the 2023 Toyota Mirai is the vehicle that leads you into the future. As a pioneering hydrogen fuel cell car, the new Mirai offers a driving experience that's not only exhilarating but also environmentally conscious. For local drivers looking to make a positive impact without sacrificing style and comfort, Panama City Toyota is proud to present the 2023 Mirai.
Our devoted Panama City Toyota team is eager to assist you in discovering the revolutionary Mirai and everything this fuel cell model has to offer. Learn more about the Mirai specs at our Toyota dealer near Destin and prepare to be astounded by the dynamic capabilities and zero emissions of this extraordinary sedan.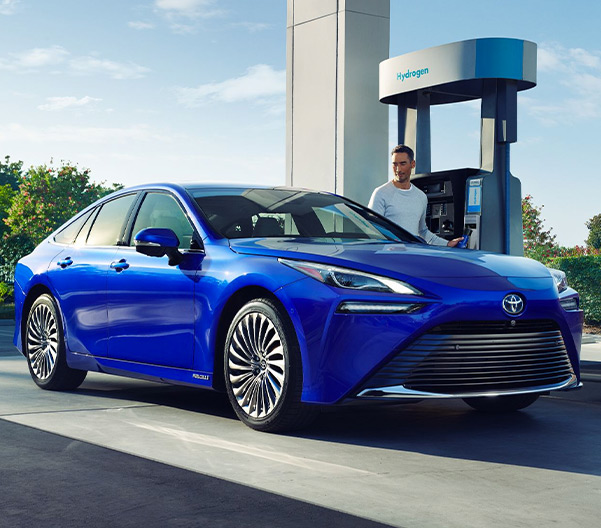 2023 Toyota Mirai Specs & Features
The 2023 Toyota Mirai redefines what it means to drive green with its state-of-the-art hydrogen fuel cell technology. It's not just about the impressive 402-mile range on the Mirai XLE grade; it's about how every element of this car has been crafted for peak efficiency and enjoyment. Luxury meets eco-consciousness in this new Toyota model, truly a zero-emissions car like no other.
Key 2023 Toyota Mirai specs and features include:
Zero-emission hydrogen fuel cell powertrain
EPA-estimated 402-mile range on Mirai XLE64
Three hydrogen tanks for extended range
Premium rear-wheel-drive platform
Sleek, aerodynamic design with LED taillights
Luxurious interior featuring heated and ventilated seats
Advanced Technology Suite incl. Toyota Teammate™ and Panoramic View Monitor
Order Your Toyota Mirai in Florida
Experience the next phase of sustainable driving by learning more about the 2023 Mirai at Panama City Toyota. We're also excited to share more about other eco-friendly Toyota models, such as the many new hybrid Toyota SUVs and sedans and even the brand's upcoming electric cars. Whether you're captivated by cutting-edge design or thrilled by the prospect of a near-zero carbon footprint, our knowledgeable sales team is here to guide you to a vehicle that aligns perfectly with your vision. Don't wait—buy a new Toyota and join the clean energy revolution today!