Must-Read Tips about Toyota Vehicles, Car Service and Parts, and the Panama City, FL Area!
Panama City, Florida, is home to many parks, natural beaches, and museums. If you're planning to try something new in Panama City, you have plenty of options for summer fun. There are many notable things to do and experience in the Panama City area, such as viewing historical sites, taking in the ocean scenery, or just enjoying the nature that various parks have to offer. As a robust tourist destination, Panama City is home to many beautiful destinations, including piers, beaches, and parks. >
Breakfast and brunch are the most essential part of the day, so it's vital that you find a great brunch spot near you. Here at Panama City Toyota, we know that what each person looks for in a great brunch spot can differ. To help you choose, we've gathered up some of the best pancake and waffle-serving spots around. Here are our top picks for the best breakfasts and brunches in the Panama City area. >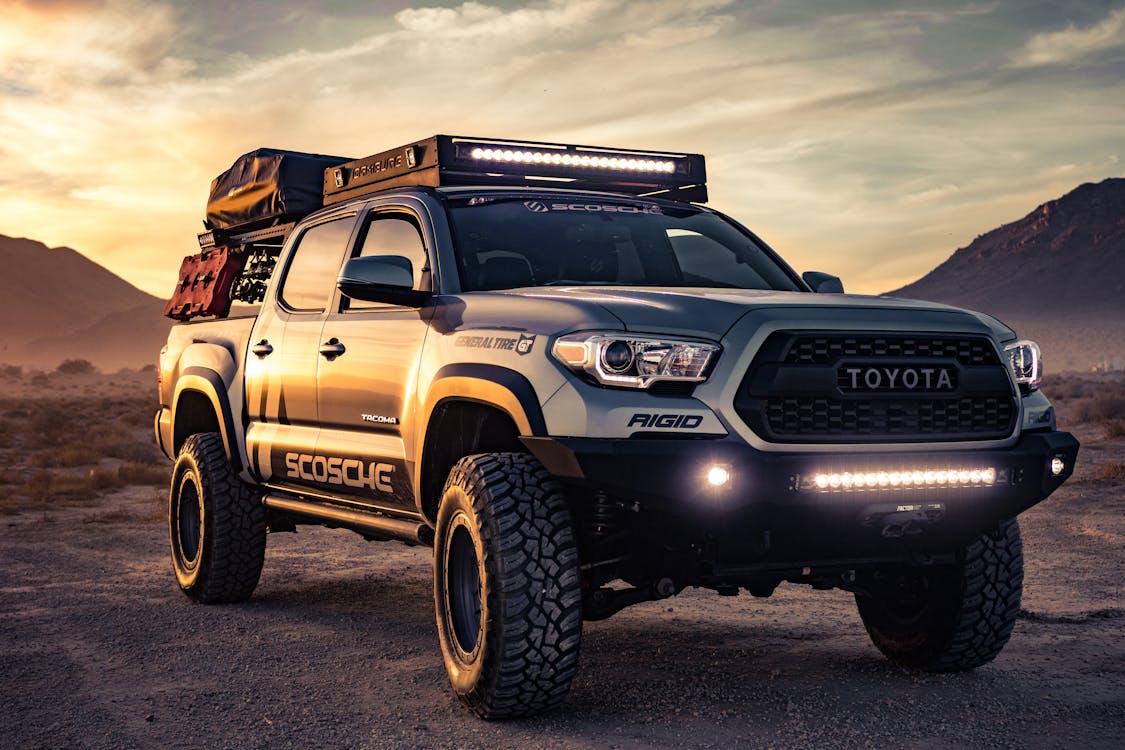 Picking a color is one of the key decisions you need to make when choosing a vehicle. Toyota offers so many color options, which makes it easy to find one that best suits what you're looking for. Below, we'll outline some of the color options available at Panama City Toyota, along with how you can go about choosing the right color. >
There are many factors that go into buying a new car, such as its performance specs, number of seats, cargo space, and safety ratings. One other important factor to consider is fuel efficiency. You don't want to buy a new car only to realize it uses a lot more gas than you imagined. Luckily, Toyota has a large lineup of vehicles that are excellent when it comes to fuel efficiency. Below are some of the highest mpg Toyotas you can find in 2022. >
Are you still figuring out your vehicle options? Learn about the benefits of using a hybrid vehicle and purchase a new hybrid at Panama City Toyota. >
Toyota offers a broad range of vehicles for every use and driver. The dependability and performance of Toyota products make them a great option for individuals looking for a quality vehicle capable of handling their day-to-day tasks, and many of their SUV models feature high towing capacities. >
Few things top the feeling of driving a quality car down a long, open road, except, maybe, driving down a long, open road with a sandwich in hand. If you're local to the Panama City area, you may already know about some of the exceptional sandwich shops nearby. If you're visiting or new, Panama City Toyota would like to offer a list of some of our favorite spots around town to grab a sandwich. >
Avoiding regular oil changes can have bigger (and more expensive) consequences than you might think. Read on to learn about the function of oil in an engine and discover what can happen to your vehicle if you don't listen to its warnings. >
Tourists and locals alike can appreciate the various historical events that resulted in the area's current culture. Check out this article to learn more about Panama City's history and discover attractions that'll fully immerse you in the past. >
Panama City Toyota has created a list of state parks and museums that are suitable for children of all ages. Enjoy educational and fun-filled experiences while you bask in the Panama City sunshine. >
Panama City Toyota has created a list of hidden gems in this area that are full of great spots to enjoy Panama City without all the hustle and bustle of tourists. Read on to learn about some of the best locations that are often overlooked by visitors to this city. >
The Toyota Tacoma has gained a reputation over the years for its incredible ability to retain its value. Buyers of used Tacomas are prepared to pay top dollar to get behind the wheel of these pre-owned trucks, and there are several good reasons why. >
Tire alignment is an important component to keeping not only your tires but also your vehicle functioning properly. This is routine maintenance that only takes around an hour, yet it's something that many people forget about. If you want to take the best possible care of your car, you'll likely benefit from learning about the ins and outs of tire alignment. Read on to learn what tire alignment is, how often you should get it done, how long it takes, and the key signs that your car needs tire alignment. >
No matter how old your car is, taking care of it can make the difference between buying new parts now or later. At Panama City Toyota, you can purchase cleaning and maintenance supplies for your vehicle, no matter what you drive. >
If you're going out with your partner, taking them on a fun, relaxing date is one of the best ways to show them you care. We've put together a list of six tips for planning a wonderful, romantic night in Panama City, Florida. >
Unlike traditional used cars, a certified pre-owned vehicle (CPO) often has a number of additional advantages similar to what you might find if you were to buy an expensive new vehicle. We've compiled a list of the significant benefits you can gain when purchasing a certified pre-owned car. >
Home to one of the most beautiful beaches in the world, Panama City has more to offer than just surf and sand. Panama City is just getting the year started with these five hot and must-visit events during February 2022 highlighted by the team at Panama City Toyota. >
As an adventure enthusiast, owning a car allows you year-round visits to various destinations on your bucket lists. Regular servicing and maintenance are also necessary to ensure your vehicle is in good condition for better performance and driving experience. You may get these services from your mechanic or car dealership service center. >
Sometimes all one needs is a change of scenery to readjust and prepare for the week ahead. If the kids need a break or if you're just looking for an opportunity to create memories, a day trip out of Panama City could be your answer. >
The clear waters of the Gulf of Mexico offer the ideal playground for those who love to be out on the water or sitting on the beach, but Panama City has lots of other things to do too. Take a look at some of the Panama City locations to visit in the new year. >
You don't necessarily have to become an expert on the car terminology, but you only need to familiarize yourself with these terms and their definitions. Our experts at Panama City Toyota want to share some of the car-buying terms you should know. >
When it comes to purchasing a new automobile, fuel efficiency is crucial for most car shoppers. To get around Panama City with as few trips to the gas station as possible, it makes sense to get behind the wheel of a fuel-efficient vehicle. >
Your tires are the only part of your vehicle in direct contact with the road. That's why it's so vital for you to ensure your tires are always in good condition. >
Empanadas are small, easy-to-hold pockets of pasty-like crust stuffed with a sweet or savory filling. They're delightful on the palate, though finding ones with the right crunch and mix of flavors can be difficult. You want a dough that is slightly flavored and will complement any filling. >
Panama City is beautiful any time of the year, but there's just something magical about it during the holiday season. You'll find activities for the whole family, date night events, and activities that get you moving this December. >
The TRD badge has a long association with Toyota, but do you know what it stands for and what makes TRD vehicles stand out? Here at Panama City Toyota, we stock various vehicles that are part of the TRD series. Check out our guide to TRD, its features, and whether it's the right choice for you.>
If you're a dog owner, the city also has plenty of options to ensure your pet enjoys a day on the town as much as you do. Our team here at Panama City Toyota has put together five of the best places for dog owners and their canine friends to relax and have fun.>
If you own an automobile, then routine oil changes are mandatory. How frequently you need to change your oil depends on your driving habits and your car's model, year, and make. Most manufacturers recommend every 3,000 to 10,000 miles oil change. >
It's not too early to start thinking about fun holiday activities that are scheduled for this year. If you live in Panama City or you are visiting Panama City, you'll find plenty of things to do and activities to keep you entertained. Here's a look at this year's holiday activities in Panama City, Florida. >
A flat tire is a major inconvenience but easily handled when your vehicle is well-stocked for such a situation. Changing a flat tire is a relatively easy process that you can complete on your own when you know the basic steps. >
Panama City, Florida, is the perfect place for sun, sea, beer and wine. The craft brewing and winery scene has made inroads into Panama City and nearby towns. There's a lot of variety, interest, and excitement surrounding the breweries and brewpubs that are entering a new era of craft brewing, and we at Panama City Toyota want to help you explore what's on tap. >
When you need routine maintenance or a larger repair job carried out on your Toyota, you've got the choice of taking your vehicle to an independent repair shop or a Toyota dealership. Whether you're driving a compact Corolla or a family-sized Rav 4, there are several reasons why finding your way to your nearest Toyota dealership is your best option.>
We're happy to offer this list of fall activities in Panama City, Florida in 2021. Take a look at our recommendations and let us know what you think.>
.If you buy a car from Panama City Toyota and don't know what those icons on the dashboard mean, you're not alone. The sight of those warning lights is never welcoming.>
. Whether you're looking to visit real haunted places or you're seeking out a fun interactive experience, this list has you covered. Panama City Toyota rounded up some spooky places close to home, plus some ideas for a haunted house-inspired road trip. Get ready for Halloween by planning your visit to the haunted places on this list. >
. Car buyers from Panama City, Lynn Haven, Callaway, and beyond often ask at Panama City Toyota in Florida if buying a vehicle with an auto loan can help their credit score. Here's our usual response: A loan can lower your credit score a little in the short term. But providing you make your payments regularly and on time, car financing will help build your score in the long term. >
. At Panama City Toyota, we have a few sushi lovers on staff who helped us put together this list of the best sushi in Panama City. And just to be 100% sure, we've taken to scanning hundreds of reviews at sites like TripAdvisor and Google Maps to make sure we're giving you the best tips possible when ordering at each of these places. >
. Getting your vehicle's wheels realigned is crucial if you want to help your car perform at its best. Regularly realigning your wheels can also improve the lifespan of some of your vehicle's parts and prevent unnecessary damage. >
. If you have kids, they'll love this family adventure, and you might learn something new about life, science, or art. Read on to learn about some educational excursions around Panama City. >
Timing in life is everything. That's especially true when buying a used car. Certain times of year make more sense than others when considering replacing your ride, based on a variety of factors. What is the best time to buy a car? >
---
If you're in Panama City, Florida, and have a sweet tooth, you might want to know which are the best places to get dessert. Whether you prefer cakes, cookies, pastries, or ice cream, Panama has a great food scene and offers something for every kind of sweet tooth, so head on out and check out these spots. >
---
There's nothing worse than trying to start your car and hearing a clicking noise as you try to turn it over. That sound indicates your battery has died which means you aren't going anywhere unless you get a jump start. >
---
From a simple flat tire to being stranded in a snowstorm, you need to be prepared for anything that nature or fate throws at you and the best way to do that is by putting together a roadside emergency kit.>
---
Burgers are classic American sandwiches that can be customized to fit adventurous tastes and ethical choices. Panama City is home to a variety of fantastic burger joints. Here are five delicious options for you to try.>
---
There are many excellent restaurants and exciting attractions to visit in Panama City, Florida. But expenses can add up quickly, and sometimes you want to do things that aren't too costly. Panama City Toyota wants to share this list of free things to do in Panama City to help you come up with some ideas for no-cost fun and entertainment.>
---
You're in the market for a new car and trying to decide whether to lease or buy, but unsure which will better fit your needs. Leasing and buying have advantages and disadvantages, so it depends on what's most important to you. To make an educated choice that you'll be happy with, Panama City Toyota is here to help.>
---
You will want to prepare a checklist and make sure you have everything ready to go before taking your Toyota vehicle into the dealership. At Panama City Toyota, we want this process to be as simple as possible for you. If you will be trading in a vehicle or returning your Toyota lease vehicle soon, here's a general overview of the return process.>
---
The beaches in Panama City cover 27 miles of gorgeous shoreline with over 100 access points. Each beach is unique, so you may want to visit them all. Here are some favorites.>
---
Panama City, Florida, is known for its fun-filled days, but what happens when the sun sets? The entertainment doesn't stop just because there's no more natural light, of course.>
---
Buying a new or used car for the first time should be fun and exciting. Yet, because you've never purchased a car before, how do you avoid potential pitfalls? At Panama City Toyota, we created this first-time buyer's guide to help you out.>
---
With an amazing reputation as an off-road truck and many customizable options to choose from, the Tacoma provides the best value for the price. The Tacoma has a solid base of fans to attest to its exceptional quality and performance.>
---
In this article, Panama City Toyota takes you through everything you need to know about power steering systems. We are a leading dealer in new and pre-owned Toyota vehicles in Panama City Beach.>
---
The 2021 Toyota Tundra is one of the most popular full-size pickup trucks because of its powerful engine, comfortable cabin, and outstanding predicted reliability rating. It's also a solid workhorse that can help you transport heavy loads on a construction site or during a weekend camping trip, thanks to its excellent towing capability.>
---
If you've been looking around at full-size SUVs to buy, you've probably come across the 2021 Toyota Highlander and the Honda Pilot. Both vehicles impress in their own way, but with all of their modern advancements and available features, comparing the two can be overwhelming. That's why our team at Panama City Toyota created this head-to-head guide.>
---
Buying a used car can save you thousands of dollars versus buying a brand new model. By purchasing a used car, you avoid much of the depreciation that cars inevitably face in the first few years too, which means your investment in your vehicle lasts longer. But there are some crucial questions you need to ask, both yourself and the seller, before purchasing.>
---
When you're looking at purchasing a vehicle at Panama City Toyota, you want the reassurance that if something happens to it, you're protected. Buying a vehicle is a major investment, and you want a factory warranty that covers its performance and dependability. Toyota's factory warranty covers a variety of aspects, but there are certain areas that it doesn't, so it's vital to know what's protected.>
---
Hybrid and electric vehicles are becoming increasingly popular as drivers recognize the many advantages they bring. From excellent fuel efficiency to a comfortable and environmentally friendly ride, Toyota's range of hybrids for 2021 have a lot to offer.>
---
Whether you're looking for a work truck or a truck to haul your toys to the weekend getaway destination, Toyota has two great trucks to choose from in the 2021 lineup. If you're looking to add a truck to your garage, definitely check out these options from Toyota.>
---
If you're looking for a stylish midsize three-row SUV, the 2021 Toyota Highlander should be at the top of your list. Offered in L, LE, XLE, XSE, Limited, and Platinum trim levels, the Highlander presents an upscale, spacious, and versatile interior with state-of-the-art technology.>
---
If you're looking for a compact sedan or hatchback with great gas mileage, an impressive range of safety features, and styling options to make your car stand out, the 2021 Toyota Corolla could be just what you're looking for. Learn everything about one of the most comfortable and economical cars on the market.>
---
Your brakes are arguably the most critical safety equipment on your Toyota. You should have your brake system inspected regularly, but let's take a closer look at your brakes and see what you need to keep them working at their best, including when to change your brake fluid.
---
One of the reasons why the 2021 Toyota RAV4 is such a popular SUV is because of its refined and roomy cabin. Take a closer look at the interior of the 2021 Toyota RAV4 and you're sure to find features that are high on your priority list
---
The Camry is a mid-size car best suited to the needs of single people, couples, and small families. Characterized by Toyota's unending dedication to innovation and feature-packed vehicles, the 2021 Camry is well worth considering if you're in the market for a new car. This article overviews the trim levels, power, style, technology, and safety features in the 2021 Toyota Camry.
---
Tired of cooking but don't feel like going out? Plenty of Panama City restaurants offer takeout meals you can enjoy in the comfort of your own home. Whether you're in the mood for locally-caught seafood, a savory pasta dish, or a flame-broiled filet, you're sure to find it in the area.
---
If you're looking for a capable SUV that can tow a small boat, but you also want to maximize fuel efficiency, Panama City Toyota shows you what the fun and flexible Toyota RAV4 could be the perfect choice for you.
---
Toyota is a leader in hybrid models, and the Japanese manufacturer's hybrid range spans sedans to SUVs. This article discusses several Toyota hybrid options for the 2021 model year.
---
The new 2021 Toyota Highlander has impressive features such as a towing package with modern engineering and up-to-date safety features, keeping you safe on the road. To learn more information about the 2021 Toyota Highlander, head on over to Panama City Toyota.
---
When one thinks of the most reliable vehicles on the road today, it's no surprise that Toyotas are at the top of the list. Toyota strives to produce cars that are aesthetically pleasing, comfortable, convenient, safe, and that you can rely on day in and day out. If you drive a Toyota or are thinking about purchasing one, keep reading to see if your car or the one you want is considered one of Toyota's most reliable vehicles.
---
If you've decided it's time for a new vehicle and you want to trade-in your current one, it's easy and convenient to do so at the dealership. You simply drive the car to the dealership, have your documentation ready, and you're ready to say good-bye to your older car and drive away with a new one. Let's take a look at some of the steps you'll need to take to get the most out of your trade-in value.
---
Not all sedans are created equal. If you've been searching for a new sedan, you understand the challenge of comparing features with the dozens of manufacturers out there. Add in all the different trims and package options, and the process can be daunting. That's why we've created a quick guide of two of the most popular sedans on the market today. Check out our head-to-head comparison of the 2021 Toyota Camry and the 2021 Honda Accord.
---
Meet the 2021 Toyota Corolla. This sporty vehicle is fun to drive, loaded with the latest tech, and has all the comfortable amenities you want in a car. The Corolla has eight trim levels on the sedan model, including a hybrid powertrain and three hatchback versions, so there's a model for any lifestyle. Here's a rundown of the trim levels and their best features to help you decide which 2021 Toyota Corolla suits your style best.
---
Car washes keep your car looking like new. When you drive your own car, you want it to look spotlessly clean to the point where it impresses. However, if your car's windshield gets cracked, you may find yourself at a crossroads, wondering whether it would be safe to get it washed.
---
Although it doesn't come standard on all trims, all-wheel drive is available on every RAV4. Use this guide to learn more about the benefits of the AWD system and how you can maximize its use when you're driving your RAV4.
---
Panama City Toyota wants to help you have the ideal car shopping experience when you check out Toyota's new 2021 SUV lineup. You will be spoiled for choice as you start to peruse Toyota's pickup truck and crossover SUV models for this year.
---
If you're planning to get rid of your current car, you may be wondering if you can sell it to your local dealership. The answer is, yes, you can definitely do that. In fact, it's the best way to sell a vehicle, especially if you want to save time and not have to hassle with potential buyers. Find out more about the benefits of selling your car to a dealership and how you can get the best possible deal.
---
Compact SUVs are popular because they can easily handle everyday life demands such as carrying goods and people. If you are in the market for a compact SUV, chances are you'll be choosing between the 2021 Toyota RAV4 or the 2021 Honda CR-V, and despite their similarities they have some unique differences. Read on to discover the specifications of the most recent generations of these two compact SUVs.
---
Panama City became an incorporated city in 1909, but this Florida city's history stretches right back to the Ice Age. Local shell middens suggest the first residents arrived around 13,000 years ago. As the centuries have passed, many insist ghosts have taken up residence at many sites around the city. While you never know when you'll have a supernatural encounter, visiting these spots should give you your best chance of getting spooked.
---
With its legendary dependability, renowned safety features, confidence-inspiring performance, and comfortable ride, the Toyota Camry provides everything you could ask for in a mid-size sedan. The 2021 Camry offers even more of what everyone loves about this longstanding favorite. With more trim levels available this year than ever before, it's easy to find a Camry that's perfect for you. Here's a quick breakdown of this year's Camry trim packages to help you choose.
---
Instead of spending your time walking around a car dealership, you can search for a new car online quickly and easily. You can speak with sales managers, set up financing, and sign paperwork without ever leaving your home. Many dealerships will even deliver the vehicle right to your doorstep. Here are some helpful tips for buying your next car online.
---
---
---
---
---
---
---
---
---
---
---
---
---
---
---
---